Project:

Alternative forage cultivations for areas with recurrent drought periods in Northwestern México




This research project is a priority in the strategic line of research "Agrotechnology and Energetic Resources" of the Agriculture in Dry Land Program.
The scientific research proposal is integrally in line with the area of agricultural and livestock sciences. It deals with basic research in these areas firstly, to generate basic scientific knowledge, and in the future propose criteria that will allow the solution of technological problems, mainly those that food assurance confronts at world, national, regional, and local level. This problem is also directly related to lack of livestock food that in general depends on the abundance of grazing or parched lands, which are currently decreasing due to recurrent drought in almost all the countries in the world.
In this sense, there is a clear conscience that in the next years, it will be necessary to improve productivity of livestock production systems, through an increase in forage and grazing and parched land improvement. In this manner, a closer link between agriculture and livestock production will be generated (sustainable ranches). Also, there will be an improvement in supplementary forage quality by carefully selecting and introducing forage species both leguminosae, gramineae, and grass to increase natural grazing and parched lands and their productivity, by means of adequate practices, genetic improvement, selection by characteristics (physiographic, biochemical, etc.) under different biotic and/or abiotic stress conditions.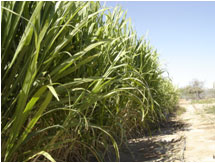 Taiwan grass has high raw protein, non-fibrous carbohydrates, and low content in neutral-detergent fiber, which is why this is a good nutritional and energetic grass in comparison with other types of grass.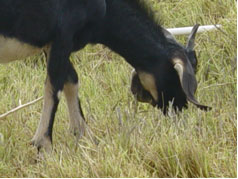 Salt grass in Northamerica is considered characteristic of low plains with high humidity content and moderate salinity. The deep development of the radical system of this species determines its capability of regulating stress because of summer drought and spring flooding, which would imply an advantage over other grass species.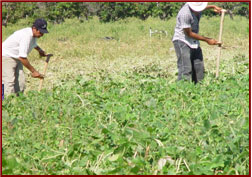 In blackeye bean (frijol yorimón) or cowpea, the grain is exploited as food for humans and for animals, but the plant is also exploited integrally. The leaves can be consumed as vegetable, while the stems and also leaves are used as forage. Besides, it is a species with tolerance to drought and moderately to salinity.
Written by Dr. Murillo Amador Bernardo
Last Updated on Thursday, 02 May 2013 12:01