Project: Availability and exploitation of macroalgae and seaweeds in highly productive ecosystems of the Pacific coasts of Baja California Sur
In the Pacific coasts of Baja California, there are large submarine prairies formed by brown seaweed that emerge from the sea covering extensions of several hectares or square kilometers.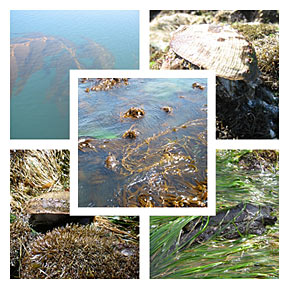 Macroalgae, seaweed, and live abalone in natural environment
These submarine prairies are characteristic of warm and cold waters just like the ones of this coastal area of the country, and are known as Highly Productive Ecosystems because a large variety of fishing resources live here, such as abalone Haliotis spp., wavy turban snail Megastraea undosa, and lobster Panulirus spp., together with other algal species as Gelidium robustum.
The presence of these resources has been the economic origin and development of the fishermen who live in this region. The importance of these highly productive systems has motivated the study of distribution and abundance of the different species that live in them and the environmental factors that influence them.


Flora and fauna collection in rocky reefs
The goal of this project is to evaluate in what measure availability and exploitation of macroalgae and seaweeds have an influence in the production variety of coastal marine resources in the Pacific region of Baja California Sur, on the part of the marine animals associated to alga and seaweed.
Microalgae and seaweeds play an important role for the animals that grow associated to them, because they are the main source of food for mollusks or habitat for spawning and protection of mollusks, crustaceans, and fish, or the substrate over which an enormous variety of benthic animals are attached.
The characterization of the algal communities of these environments and their exploitation as food and/or habitat in these ecosystems turns out to be fundamentally important to help us understand production and the regeneration processes of the individuals that are extracted as product of fishery activities. On the other hand, the information obtained will contribute to analyze the good working order of the ecosystem (macroalgae and consumers) from a global perspective of the system.
As a result of this project we have.
Prepared a list of flora in the western coast of the Baja California Peninsula;
Identified the macroalga banks with higher biomass and species richness;
Identified and described the diet for the Giant Keyhole limpet M. crenulata.
Written by Dr. Elisa Serviere Zaragoza
Last Updated on Friday, 07 January 2011 12:32