Project: Local extinction, adaptation, or compensation in long-living organisms facing global change; Panopea abrupta in the Northeast Pacific Ocean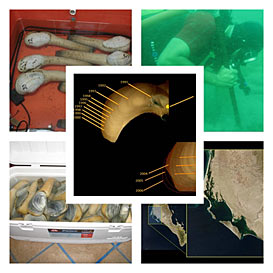 Our proposal is to deal with the study of possible climate change effects on marine populations in the temperate-tropical transition area of the Mexican Pacific starting with the comparative population analysis of a species of sedentary mollusks, Panopea abrupta, which is considered particularly useful as a study model (1) because of its extraordinary longevity, and (2) because it is not subject to mortality by predators in its adult stage. The slowness at which any selective process at population level can be fixed and because its mortality could be assumed to be essentially a result of physiological processes explain why the species is considered a good predictor of the influence of environmental factors; it also justifies the proposal that the species is an excellent model to analyze the direct effects of climate change in marine mollusk populations. For this purpose, we propose to characterize different populations of the species along the hot limit of their distribution. The results could show new evidence that could be interpreted in relation to the possible effects of climate change on these populations and environments.
The hypothesis that emerges from the previous information is that P. abrupta populations show macroecological patterns in their population dynamics and their physiological characteristic allow us to infer that the most tropical populations are more vulnerable to local extinction,in relation to the most northern populations in view of possible effects of global climate change.
The general objective to meet in this project is:
To determine the potential response of the geoduck clam facing climate change in the Pacific coast of the Baja California peninsula.
From which the following specific objectives derive:
Determine the environmental framework of Panopea abrupta;
Analyze variability in population density, structure by size, and individual growth along the environmental gradients, both in latitude and in depth;
Estimate the relative index of species recruitment;
Determine if there are differences in energy and in the reproductive potential of the populations compared, and if any, if such differences are interpretable as responses to environmental variability.
Up to now the studies performed have focused on geoduck clam population dynamics in the lagoon complex Bahía Magdalena-Almejas. We have been able to generate information about their thermal tolerance, as well as to provide preliminary information on population age by reading growth marks in shells, same which will allow estimating other population parameters.
Written by Dr. Daniel B. Lluch Cota
Last Updated on Wednesday, 05 January 2011 14:12