Written by Dr. Eugenio Alberto Aragón Noriega
Project: Biological and socioeconomic bases for sustainable exploitation of coastal fishery resources of the Upper Gulf of California
The site known as the Upper Gulf of California in Northwest México is the sea embraced by the states of Sonora and Baja California. The Upper Gulf of California confronts a great conservation challenge for the Mexican society. On the one hand, thousands of persons (fishermen on the sea, women and children at home) depend on fishing. There is no weekly salary that the head of the family brings home for them. If the fishermen do not fish, there is simply no food that day, and no fish to sell. Therefore, there is no money for utilities (electricity, water), and health services for the family.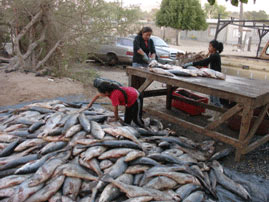 On the other hand, there is a small marine mammal known as vaquita [Phocoena sinus] which is captured "accidentally" in fisherman nets. These vaquitas only live in the Upper Gulf of California. There are no vaquitas in any other place in the world, same which are now very few, and if fishermen keep fishing them out in nets, they will be extinguished from this planet, and it will be solely the responsibility of Mexicans because they only live in our country.
With this project we intend to know the current fishery production state of the coastal fleet of the Upper Gulf of California by describing distribution, where and when fishermen capture the species for food, either for themselves and their families, or for sale in the markets where we shop for fish. We want to know if the fishermen would like to stop fishing in order not to affect vaquitas, and under what conditions they would do it. If they stop fishing, they do not have another job to perform, or if they are able to get another job and the money they earn is less than what they can earn from fishing, then they would not stop fishing.
We are also interested in knowing what the environmental needs of the species they fish are and the possible alternatives to change fishing techniques in a way they can continue fishing the same number of fish, and still be environment friendly to avoid any harm to the environment. If we manage to understand how these species respond to environmental change, we can help the fishermen continue having access to their food while vaquitas continue coexisting in the sea they have been living for years.
Up to now we have found that more than 3000 persons live in the community known as the Gulf of Santa Clara, Sonora, and that 80% of the persons in working age are dedicated to fishing activities. The fishermen earn a total of 55 to 60 million pesos each year, and they are willing to stop fishing if there is a work source that will allow them to earn the same amount they have earned up to now with fishing.
Last Updated on Friday, 23 May 2014 12:32